March 4th 1931 at 1:15 p.m. at the INPI (National Institute of Industrial Property) in Paris, René-Alfred Chauvot officially patents his invention of a "wristwatch, which can slide on its base and flip over on itself". The Reverso watch was born.
For the 85-year celebration of Jaeger-LeCoultre Reverso model, the Swiss Maison is focusing on the individuality in the Atelier Reverso Collection: the client is able to choose between several spectacular materials for the case, dial and strap of the watch. This makes perfect sense, since Jaeger-LeCoultre has always been an advocate of making creative watches for men and women who are not afraid to stand out in an elegant way.
The history of the Reverso is extremely rich. The first cases were all based on the Golden Mean, the celebrated proportion that can often be seen where nature acts as its own spectacular architect. Each of the five images has an unquestionable hero or heroine: the brand-new Jaeger-LeCoultre Atelier Reverso watch; a watch from a Maison that keeps reinterpreting its image while always connecting with its history.
The photographic concept includes three layers based on a contemporary, progressive and cutting-edge collage technique:
strong background materials relating to the dial with their color and emotion
nature as architect/playing with time on different scales
the new Reverso watch
The team also wanted the design to contain a subtle homage to the three lines engraved horizontally on the Reverso. By giving them life, they also evoke the movement of turning the case around. These lines can be seen as moving stripes of light, a symbol of time passing in the sky above our heads.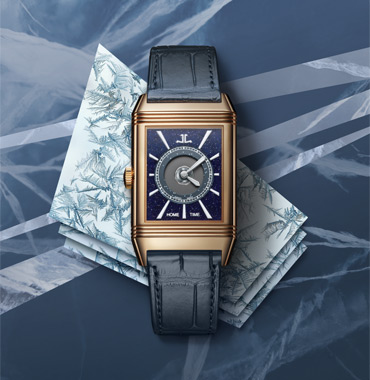 STARRY NIGHT
Watch: men's Reverso Classic Large Duo model with a blue aventurine dial in a pink gold case on a dark blue leather strap
Middle layer: Finely detailed ice crystals settling on a glass window
Background: Texture of large ice cracks
This men's watch is mounted against the frosty, shimmering sparkle of the aventurine dial.
Aventurine has been imbued with celestial properties throughout history, and as we all know, the foundation of watchmaking is all about astronomy.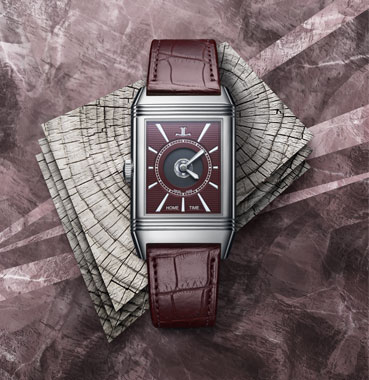 WOOD BE GOOD
Watch: men's Reverso Classic Large Duo model with a burgundy lacquer dial decorated with a guilloche clous-de-Paris pattern in a steel case on a burgundy leather strap
Middle layer: Wood section texture
Background: Marble
The rich texture of year rings is a beautiful circular document of time that nicely accompanies this stylish men's watch.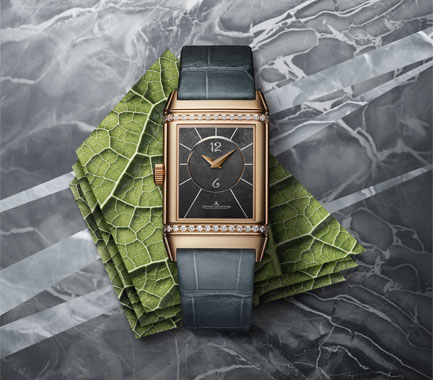 DON'T LEAF ME
Watch: ladies' Reverso Classic Duetto model with a grey obsidian dial in a pink gold case with diamonds on a grey leather strap
Middle layer: Autumn leaf
Background: Grey stone
The leaf evokes the changing of the seasons, and together with the grey stone, the golden case and shimmering diamonds push the riches of autumn glamour.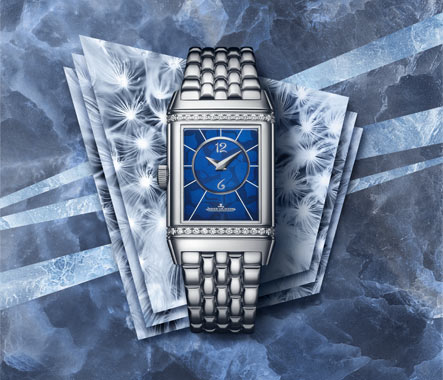 FEELING BLUE
Watch: ladies' Reverso Classic Duetto model a blue ivy dial in a steel case with diamonds on a steel bracelet
Middle layer: Dandelion close-up
Background: Marble
The dandelion represents nature's cycle and also reminds us of our childhood, when we would blow the seeds into the wind.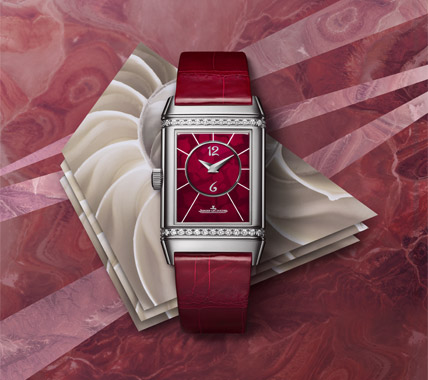 SHELL SHOCKED
Watch: ladies' Reverso Classic Duetto model with a red ivy dial in a stainless steel case with a diamond bezel
Middle layer: Fibonacci pattern in a seashell
Background: Ruby crystal
A fossilised shell shaped over eons of time becomes a sharp companion to this statement in red.